Food Safety Course Updates for Allergens, Contamination, and Certification Schemes
As the food industry changes, Intertek Alchemy moves in stride with it. Recent industry developments prompted several changes to our offerings in food safety courses and other changes were driven by our desire for continuous improvement to better serve our clients. All of the courses here are part of the standard Alchemy catalog and are now available in your library.
Food Safety Standards Courses
Important to all in the industry are the Food Safety standards courses. We've offered 3 to date – a generic introduction, an SQF version, and a BRC version, and we updated them all. FSSC 22000 version 5.1 became applicable on April 1, and we are introducing a new course to support the new version for clients that use this certification scheme. Here are the 4 new/updated courses on standards:
Food Safety Standards: Introduction (UDM9)
Food Safety Standards: Introduction and SQF (UDM24)
Food Safety Standards: Introduction and BRC (UDM25)
* NEW * Food Safety Standards: Introduction and FSSC 22000 (UDM030)
Food Allergens Courses
Since the passage of FALCPA in 2004, "The Big 8" allergens has driven US industry practices in handling allergens and protecting consumers. Now with FASTER passing in April, there's a new "big allergen" in our land: sesame. While there is a bit of time before auditors look for changes at facilities, we're ready to help you make them with sesame-related updates to four key courses.
Food Allergens: Introduction (UDMS1)
Food Allergens: REFRESHER – Introduction (UDM51)
Food Allergens: Proper Handling (UDMS2)
Food Allergens: REFRESHER – Proper Handling (UDM52)
Food Contamination Courses
Contamination is an important facet of food safety and we offer several derivatives of our Preventing Food Contamination course that cover the spectrum of food products. No producer wants to introduce Listeria or other biological contaminants into the product stream because the toll on consumers can be severe. Thus, training all employees to help prevent contamination is essential, and for training efficiency (i.e. same learning, less time), we've streamlined 5 of these derivative courses into 2.
In this process, we renamed two courses and will soon retire 3 related courses. Below are the 2 updated courses followed by the 3 courses that will be retired on August 18, 2021. The image further below graphically depicts these changes.
Updated/Renamed Contamination Courses
Preventing Food Contamination: Meat and Poultry (UDM2)

Formerly named: Preventing Food Contamination

Preventing Food Contamination: Food (UDM2V)

Formerly named: Preventing Food Contamination – Produce
Contamination Course Retiring 8/18/21
Preventing Food Contamination – Dry Foods (UDM2Y)
Preventing Food Contamination – Frozen Foods (UDM2F)
Preventing Food Contamination – Poultry (UDM2P)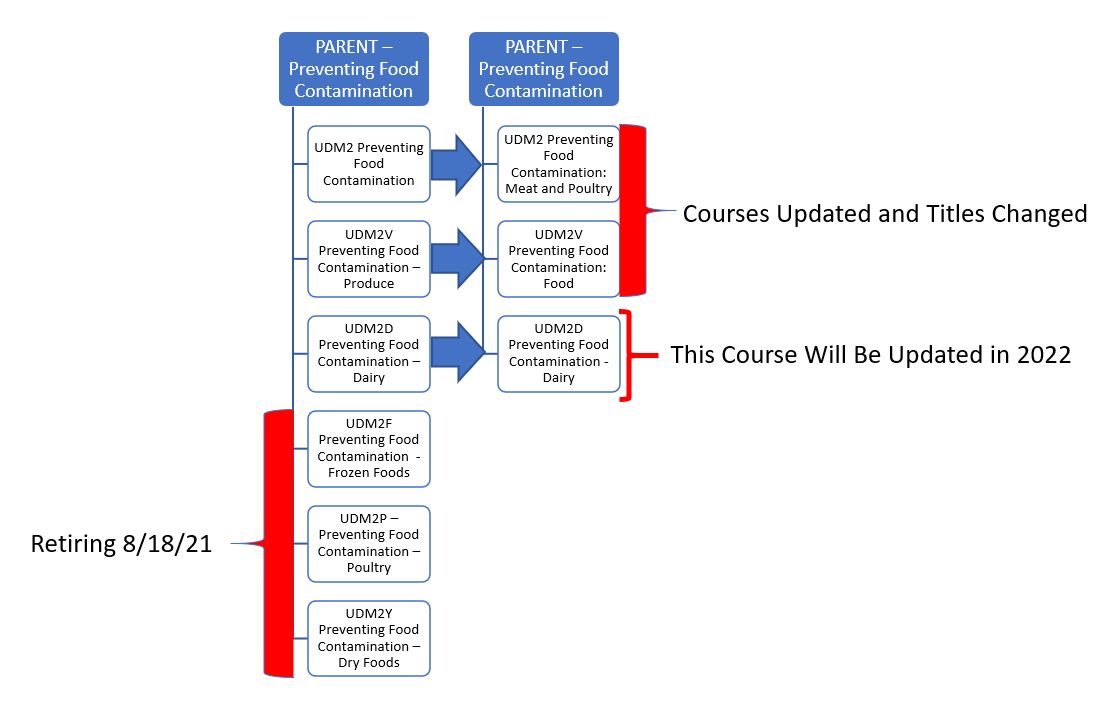 Note: the Dairy course (UDM2D Preventing Food Contamination – Dairy) shown above is slated for update at a later date and will not be impacted by this retirement.
Impact to Learning Plans
Course retirements affect Learning Plans in different ways, depending on if the retirement is at the parent or child level. These August retirements are at the child level, which has a lighter impact. Existing Learning Plans will be unaffected, but as new employees are assigned Learning Plans, note that there will be different courses available to satisfy the objectives.
These new/updated courses are all found in the Food Safety category, and are currently available in English, Spanish (U.S.), and French (Canada). We invite you to review them and trust they will continue to be of high value to your frontline workers.
As always, we welcome your feedback and questions at productfeedback@alchemysystems.com.